Since creating Uniforms is not your primary line of business, finding a reliable supplier is critical to ensure your Uniform demands are met.
But how to evaluate the best Uniform supplier?
The first thing you should keep in mind is that the ideal option is to outsource Uniform Management to a partner who can offer an end-to-end solution and make your Uniform processes simpler, so you can have peace of mind. SKYPRO suggests that you ask your potential Uniform Provider the following questions before deciding on them, and demand that they be very clear about what they can offer you.
UNIFORM SUPPLIER EVALUATION CHECKLIST
1. Has the provider previously produced Uniforms for your line of work?
Even if the vendor you selected initially seems reasonable, if they don't have specific experience in your company's industry, or if your sector requires technical standards for Uniforms, think twice. It is quite possible that this inexperience will have a major impact later on, while the project is ongoing.
To reduce risks, think about choosing a partner with extensive experience in producing Uniforms for your sector of work.
For instance, SKYPRO has completed successful projects for more than 80 clients globally in a variety of specialized industries, including aviation, ground handling, cruising, hospitality, security, healthcare, casinos and retail, among others. We are trustworthy and reputable professionals in Uniform Management.
2. Does the supplier have the expertise to design and use proper raw material for the manufacture of Uniforms?
Creating Uniforms for technical professions requires much more than just designing stylish attire in line with the brand's identity. In these cases, a Uniform must be made to be a functional piece of clothing for usage in specific workplace contexts.
It is a very complex undertaking that calls for a number of elements to be taken into account, including:
Aesthetic-formal standards and appearance styles;
Performance;
Stability;
Safety;
Choice and specification of materials (such as durability, impermeability, flexibility and breathable fabrics, among others);
Production processes and methods.
SKYPRO knows from experience that Uniforms are not just about looking good, but also about being functional. Therefore, our garments are created based on the concept of Functional Design.
They assist professionals in performing their duties without endangering their health and wellbeing. Our knowledge of unhealthy substances for workers' health and how to avoid them enables us to design Uniforms that safeguard the body while at work. Each fabric, leather, pattern, style construction is thought to guarantee the protection of the professional.
3. Will the supplier manage all the Uniforms processes?
If you are satisfied with your current Uniform Management process then your supplier will only look after the production and delivery of Uniforms.
However, a new Uniform Project presents a strong opportunity to review the current process, identify challenges and costly activities and develop solutions to improve efficiency.
SKYPRO offers end-to-end Uniform Management services including a Uniform Management System, the mySKYPRO Portal, that will manage all processes for you, in a sustainable, technological and automated way.
This means SKYPRO will:
Handle the Uniform Design and the production;
Manage the Supply Chain;
Control garments stocks;
Provide the items in the appropriate sizes;
Assure size assessment;
Allow self-ordering for workers;
Delivery the garments in the company or at the employee's address,
Predict demand forecasting by using smart algorithms, to stop further pointless purchases;
Provide insights by different and personalized dashboards.
Our goal is to provide comprehensive, integrated solutions that make use of the most cutting-edge analytics and intelligence technologies available right now.
4. Does the supplier have a Project Management map with detailed information?
Your supplier must be able to control all stages of the Uniform Project, for instance:
Clarify production and delivery deadlines;
Document the project scope and final approved sketches;
Provide schedule of deliveries, corrections and approvals, both by the purchasing company and by the supplier company;
Create flawless Technical Sheets with all raw materials, compositions and trims. Remember to ensure that all items are physically, chemically and usability tested, not jeopardizing the health and safety of crews.
At SKYPRO, we have developed our own Creative System to Uniform Production, in which we describe, step by step, all the phases and estimated deadlines involved in the Uniform Project.

SKYPRO Creative System to Uniform Production
Project Map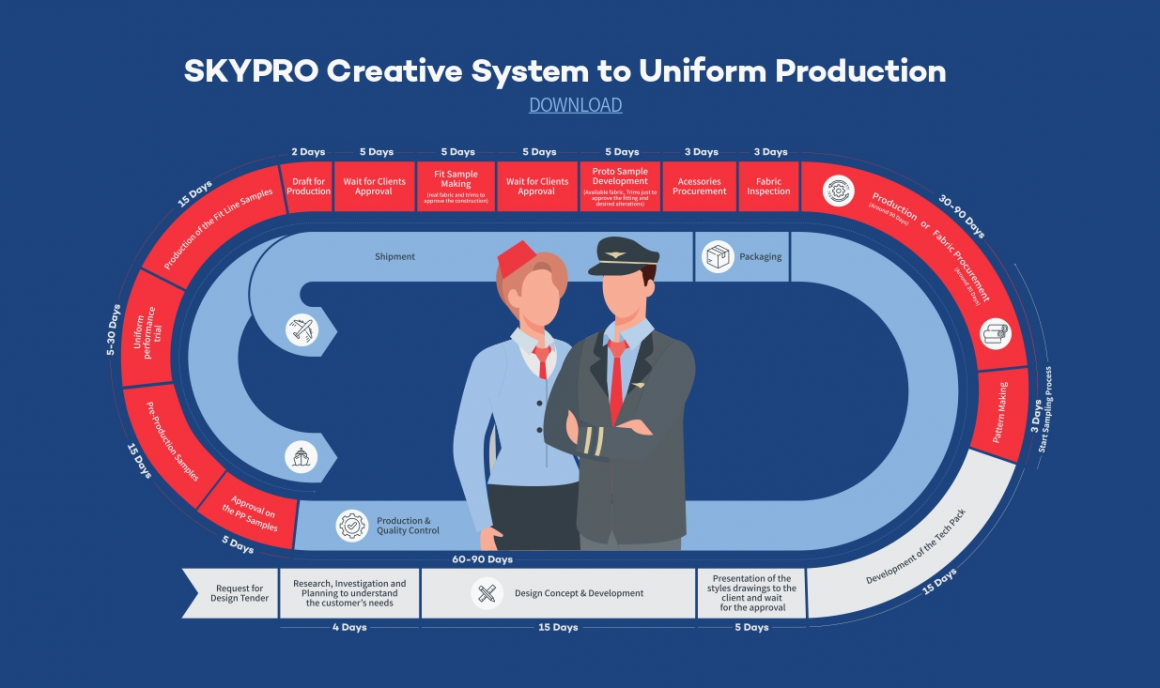 5. Does the vendor offer sizing sessions so that employees can find clothing that is the correct fit?
Once the Uniform Golden Sample is ready, employees can access our Uniform Management System (UMS), called mySKYPRO, and schedule their Fitting Session at their company, in a convenient time.
During the Fitting Session, a tailor carries out the work of finding the best size match for each worker, so that everything arrives in the perfect size.
Since it is a completely controlled process, size errors when reordering the entitlement are significantly reduced.
6. Does the supplier care about Sustainability?
This can be surprising, but did you realize that the way you make Uniforms can help you lower your carbon footprint? However, this will only occur if you have the right partnerships.
Most businesses are still unaware of the benefits of working with a responsible Uniform Supplier to help them meet their sustainability goals and lower their carbon impact. As a result, they wind up engaging manufacturers who frequently use materials created using unsustainable resources or through methods that harm the environment.
This can be a risk if your company prioritizes Sustainability or has challenging Sustainability goals to meet.
The right Uniform Manufacturer must be able to develop and supply a wide range of garments made out of durable, fashionable and sustainable fabrics. It is vital that you choose the best suppliers for the job. To ensure Uniforms will be sustainable, here are 5 questions you should ask your supplier.
At SKYPRO, for instance, you will find a large range of suppliers, who work with sustainable materials, and a team of experts developing the most sustainable methods of Uniform Manufacturing, always keeping in mind that you have very challenging carbon footprint reductions goals.
We have a product line called SKYPRO Ecologic that acknowledges the significant shift in behavior toward sustainable practices and supports this movement by:
Prioritizing eco-friendly quality raw materials;
Less consumption of chemicals, water and energy;
Prioritizing the reduction of conventional fibers by using low-impact materials;
Substituting leather where possible with other, more sustainable materials;
Prioritizing suppliers who use 100% recycled water and 100% solar energy;
Championing local suppliers in the Portuguese textile and leather industry;
Prioritizing the usage of recycled packaging;
Prioritizing Eco-design in the entire life cycle of the Uniforms we produce, from the design thereof, to how Uniforms are durable and then reused and recycled when needed.
SKYPRO constantly prefers to provide Uniforms out of environmentally friendly raw materials that are produced sustainably. In addition, our Uniform is well planned and manufactured, so it can contribute to the reduction of the company's carbon footprint.
SKYPRO, Feel the Ultimate Care!